I love using t shirts to make rugs.  Recycled t shirts provide about a third to a half of my knitted rug stash, and a bit less of my weaving fiber supply.  I'll collect them in almost every color except white and the palest pastels (which aren't that common anyway), wash them, machine-dry them to ensure they are shrunk, and then slice, roll, and store them until I'm ready for their particular contribution to a color story.
In this article, I provide an overview of a number of methods that can be used to make a t shirt rug.
It takes about two pounds of t shirts to make one square foot of a t shirt rug.  Do the math:  a 3' x 4' rug, or 12 square feet, takes 24 pounds, give or take, of t shirts.  You will probably want to weigh your own t shirt stash; mine comes in at about ½ a pound each, in L and XL sizes, in reasonably good shape (not washed to paper-thinness).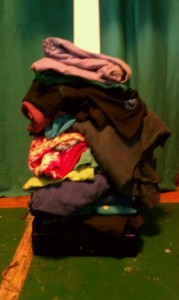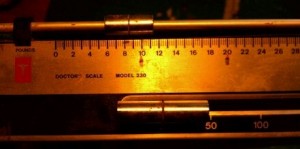 Recycled t shirts can be used as fiber in almost every form of rag rugs:
Knit
Crochet
Woven on a tapestry loom
Woven on a triangle loom (theoretical; ask a tri-loom weaver and be prepared to break new ground)
Woven on a floor loom
Woven on a hula hoop loom
Prodded, hooked
Braided
Hooked onto canvas
Sewed onto a towel
Thoughts on different t shirt rug making techniques
I specialize in knitted and loom-woven hand made rugs.  Knitting t shirt rugs is easy; it's portable and requires a minimal investment in equipment.  Knitting is also reasonably well balanced between both sides of the body, and therefore causes less stress on either of your arms and hands.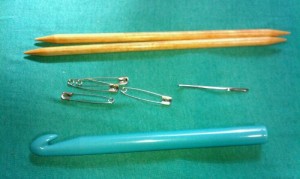 If you're going to make a t shirt rug completely by hand, all the tools you need are shown in the picture above.  I use 10″ knitting needles from Twin Birch; large safety pins to hold parts together, and a large darning needle to sew up the parts.  If you crochet, you'll need the pins and needle, as well as a large crochet hook.
Both tapestry and triangle (continuous) looms have little appeal for me.  They're too slow for their limited portability.  Because of my other expertise (!), I might try a rug woven on a hoop loom just for kicks.  If I'm going to weave, I want a tight, dense, rug; I don't think you can achieve the same density on a hoop loom.
A floor loom is fast enough, if I have to be in a particular location when I weave, that I gain some efficiency.  If you have access to a floor loom, you can make a good t shirt rug fairly quickly, once you allow for the time overhead of dressing the loom.  Tshirts, and their relatives, tshirt fabric sheets, pack wonderfully and create a very dense, tight rug when used in a floor loom.
For me, crochet is too hard on one hand, and crocheting with large hooks and thick fiber caused elbow and wrist problems I didn't want to accept.
Twining looks like an interesting technique that doesn't require expensive equipment.  I have never tried it, and I don't know how it would world with a soft, stretchy material like recycled t shirt fabric.
Prodding and hooking rugs are, IMO, similar techniques (rug hookers are aghast everywhere…) that traditionally, use wool.  I don't know how they will work with t shirt fabric.  I have plans to test rug hooking using scrap (yoke and sleeve) t shirt remnants. Hooking is slow, but mostly portable.
Cutting t shirts into fiber
If you are going to make a t shirt rug of your own, buy a razor wheel cutter and a cutting mat.  You'll give up quickly if you try to cut recycled t shirts with scissors.  I use my Gingher shears to trim and snip, not for serious cutting when I need to generate hundreds of yards of cut fiber.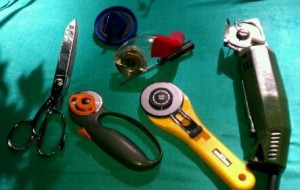 I have tested most of the cutters on the market.  For manual cutting, I use the Martelli Ergo cutter.  It's the cutter with the red handle in the picture above.  Martelli cutters come in right and left handed versions.  For production work, esp. denim and heavy fabric, I use  an electric razor wheel.  This is not cost effective if you're only going to make one rug from your own t shirts, but it sure pays off for me.
The round tool above the Martell cutter in the picture is a blade sharpener.  Sharpening razor cutter blades prolongs their life.   Getting more use out of a $5 blade makes the sharpener pay for itself before you've used up a whole pack of cutter blades!
Color stories
No matter what technique for making your recycled t shirt rug you select, the most visible element that will make your finished rug successful, and something you love to display, will be your management of color.  There are some situations where randomly arranged, random colors are the right answer.  The recycled silk sari fibers used in rugs are beautiful, as are some of the rugs from Mexico.  However, once you quit using milk crates for end tables, your home color choices are likely to get a bit more sophisticated.  It's completely possible that, with a little planning, your t shirt rug can support your décor, rather than looking like a "gee whiz, isn't that cute!" (but ugly…) project.
no images were found
It may be easier to play with colors before you slice the shirts.  Arrange your shirts on a flat surface.  Sort, shift, and play.  What looks good together?  What doesn't?  Repetitive stripes look like you planned something; random colors rarely do.  Black is the ultimate binder, and a few black stripes placed semi-regularly across your rug will make even the brightest colors brighter.  If you have to buy a few black t shirts at the thrift shop, look for "good" blacks, as black washes to gray quickly.  Don't underestimate the neutrals, either. If you have tan, khaki, or brown shirts in your pile, try those colors against the brights.  You may be surprised!
In all the work I've done so far, I haven't had to dye any fiber to get the colors I needed.  My house has a septic system rather than sewer service, and I am reluctant to consider dying because I don't have a safe way to dispose of the leftovers.
Sources of additional t shirts
If you decide you need more colors, or more shirts, here are some of the places you can find very inexpensive t shirts for use in recycling projects:
Yard sales, esp. late in the morning when the sale is almost over
Thrift shops, esp. on bag days (all the clothes you can fit into a bag for $5), or from Bag Tables
Thrift shop rag bags
Storage unit auctions
Swap meet with friends
Hiring help for your t shirt rug project
If, when all is said and done, you realize you're simply not going to actually complete this project, but you still have a pile of t shirts and they still would make a great rug, contact me.  I can create a kit for you to knit or crochet, or I can turn your recycled t shirts into a finished rug, either woven or knitted, for a reasonable fee.  If you want to shift your colors in a different direction, I can add fabrics from my stash.  However we are able to work, you will be closer to making a recycled t shirt rug than if you don't do anything.
Save