A discussion on a textile forum addressed the question of sourcing fiber for our rag rugs.  Several weavers buy new fabric by the yard.  Others work in real "rag" (textile waste) exclusively, although our sources vary.
The notion of using store-bought fabric to make a rag rug shocked me.
I weave textile waste:  used clothes and bedding, recycled t shirts, waste fiber from textile mills.  It's all washed, and it's all waste that would otherwise go to a landfill.
"It would be impossible to actually make all my rugs from "rags."
As long as I define "rags" as "fabric that has been used for its intended purpose and subsequently discarded," I disagree.
My life provides a huge source of abandoned fiber, through storage unit sales (people tend to take their useful furniture and leave clothing behind for the unit landlord to clean out), garage sale leftovers, donations from friends who know I weave, thrift shop bedding, and factory waste.  I can match almost any color scheme, although it may take me a little while to repeat one if I've drained some of the less common colors.  (I don't buy "rag bags" from the thrift shop because they usually contain stained white clothing and I do not dye in this house.)
I'm reducing the landfill load by about 90% when I turn abandoned clothing into a rug.
The arguments against using real rags to make rugs fall into a few limited categories:
Each can be disputed.
Labor
People who weave new fabric into rugs believe that the amount of effort needed to process old clothing is too great. When it comes to labor, I can process a rug's worth of used clothing in a few hours.  It would take me as long to drive to the fabric store and shop.  New fabric has to be pre-shrunk; while I wash woolen clothing in hot water, most of the clothing I acquire is so well-worn that I can trust it has shrunk to the max and therefore wash in cold water, saving energy.
It took a while to develop my system, and I have invested in an electric rotary razor cutter.  I process "incoming" clothing for an hour every weaving day, and my stash hasn't dipped below critical level in the five years I've been creating rugs from rags.
Quality
Some weavers think that clothing today is so cheaply made that it's not worth weaving into rugs.  This argument appears to be circular—most t shirts, at the very least, are as good a quality as the discount fabric off the sale racks!
Color
by purchasing a better quality quilt fabric, I am able to better coordinate colors or match any color my customers request
OK.  I guess.  This has not been my experience.  I do not dye fabric for any of my rugs.  I have been able to source all the fiber for all the rugs on the available rugs or the sold rugs pages from textile waste.
no images were found
Point made.
Cost
Textile work is expensive enough, in terms of its labor component, that I can't afford to spend real cash money sourcing new material as well.
I buy warp.  That's unavoidable.  Very few weavers also have the time to spin their own warp.
I buy sheets and yard goods in the thrift shops.  This money goes to the charity that the thrift shop supports, most commonly the local school system, Habitat for Humanity, or an animal rescue organization.  Money spent on store bought yard goods goes to the owners of textile mills in China.  How is this a good thing?
I brought home a truckload of free fabric from a trip to TS Designs, in Burlington (about 45 miles away), a month ago.  Fixed colors, unlimited volume.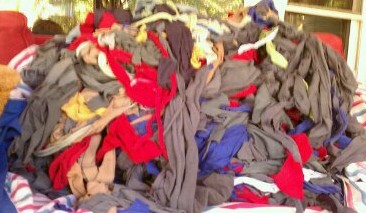 This past weekend, John and I went to the El Anatsui "When I Last Wrote to You About Africa" show at the NCMA. The docent suggested we watch Susan Vogel's movie before viewing the exhibit, and I heard El Anatui's Studio Manager say words that applied to my art:
Onyishi Uchechukwu, Studio Manager for Anatsui
I started working with him as an undergraduate student, and El advised us to use cheap mediums – because when you are using cheap mediums you are freer. Unlike when you use material that is expensive like gold, it tends to restrict the size of the work and you tend to economize. But when you use cheap medium, you are freer and you express yourself better, and the size of the work will sometimes become intimidating.
El Anatsui, from Fold Crumple Crush: the Art of El Anatsui, a film by Susan Vogel, 2011. Online transcript viewed at [20120715].
Store-bought rug fiber runs as high as $40 / pound, which is, admittedly, a good deal less than gold. However, a 3′ x 4′ rug, woven of store-bought wool, will cost $200 in materials alone. To create the variety of color surface I want to use, I'd need at least a pound or two of every color in my studio (27 x $80 = > $2000), and I know I'd get twitchy about using it. My rugs would get smaller. I'd weave more carefully, with less freedom.
I wouldn't be as comfortable weaving rugs on spec, out of my own sense of color, and would look primarily to weave commissioned work, to match other people's color choices.  While commissions can push me into color work I wouldn't have selected on my own, and therefore teach me about new combinations, I think that color-river flows both ways.  Plenty of clients use my rugs as starting points for their palettes.
The Value of Limits in Art
Rugs made from clothing are incredibly earth friendly, and love the look; it's just not feasible for me.
I believe that assigning myself the task of making something beautiful out of waste inspires additional creativity in a way that I would not explore if I simply ran to the store to buy "parts."
Several years ago, a client commissioned a set of rugs in a colorway I did not collect at the time, one using a lot of "men's clothing" neutrals.  I discovered how wonderfully khakis and tans are in a blend, and now I have the entire November color story as a result.  Cowgirl is another creative answer to the textile waste market, in as much as the most common color of thrift shop sheets is pink.
Some of my rugs are created when I'm long in a particular color:  what can I do to use up red?  When I was processing fiber for November, I went long in browns, and created two new spiral knit rugs from the smaller bits.
The fixed colors of t shirt scrap from TS Designs are a new challenge.  I have not worked in the muted, organic dye space before; it's an interesting challenge to think of how I can make their colors work in my art form.  Buying fabric would sidestep this creative growth.
I have arranged my studio, and my creativity, to work in the world of waste textiles.  It may not be for everyone, but it is certainly possible.
 I see my art as a current point on an ancient continuum, moving what had been a "necessity" product into a "luxury," but not wanting to leave its roots behind.  Historically, rag rugs were made from fabric that had no other "next use."  If it could be cut down or repurposed for any other use, it was.  By the time fabric got into a rug, it was DONE.  Using new fabric for rugs is the wrong answer, at least in this studio.