(This post was written in reply to a discussion on the Rug Talk chat list.  I don't have pictures yet.  Will add images the next time I recycle a pile of blue jeans into weft for denim rag rugs.)
When I trim out blue jeans, I wind up with four long skinny rectangles, a pair each of front and back pieces.  (Unless one or both fronts are nasty, in which case I toss them.)  (I'm experimenting with braiding the side seams, but that will be a different post.)
I sort these rectangles BY WIDTH.  Length doesn't matter.  I'll get roughly four or five piles, depending on how large (!) my donors are in any given batch.  Fronts and backs are rarely the same width.  I also randomize the individual pieces so the color comes out evenly blotchy in a rug, rather than stripey.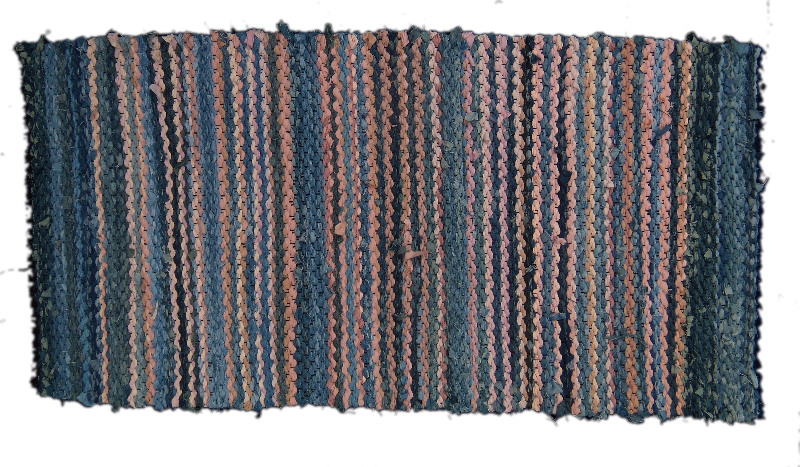 (The blue shades in the rug above are recycled blue jeans; the pink are abandoned linens.)
(May go to "all dark" or "all light" one day, but not yet.)
Then I sew up each pile of even-width rectangles end-to-end across the narrow ends, so I get one long piece of about 10 leg bits stitched together.   Double-sew or zig zag, or don't worry about it because the warp will hold a single line of stitching once you beat.   10 pieces of recycled blue jean fronts or backs in one strip is all I can manage; if you're short, use fewer.  (I'm 6-0.)
Fold the stitched-together pieces into a stack as thick as your cutter can cut.  Mine (Jiasew) will cut 4, maybe 5 layers of denim.
Trim off the long edges to make an even pile.  If you've sorted by width already, you don't lose too much on this trim.
You can cut the pile into a spiral or back and forth.
Doing math in my head:  a strip of 10 fronts 6-7" wide, maybe 30" long each, = 280 inches by the time you lose the overlap; cut into weaving width of ¾-1".  That gives about 5 or 6 * 280" / 36" = 40 yards of weft per stack.
I leave the pieces sewn together, and then folded but not cut, until I'm ready to weave.  It's easier to manage the folded fabric than precut weft in my studio.
I hadn't thought about knitting these cut pieces until I wrote this post.  I knit one denim rug a long time ago.  Denim is much harder to knit than recycled t shirt fabric, and bulkier, and the color stained the wooden needles I use.  YMMV.