Was it in The Five Little Peppers and How They Grew, or one of the Laura Ingalls Wilder books, where it was a family tragedy that one of the girls broke the basting thread and they couldn't re-use it? This memory sticks.  I have never re-used basting thread.  But, as one local painter observed years ago when I was taking art lessons, "You textile people are so frugal!  Go ahead and use the paint!"
She was right, and that was before I started making art from recycled t shirts.
The sewing machine that uses white-stripe bobbins died, and of course, left a collection of white-stripe bobbins full of thread behind.  Sewing recycled t shirts into long strips for weaving uses a lot of thread, and it doesn't have to be a perfect color match. I looked at that collection of loaded bobbins and decided I wasn't going to waste the thread.  I would be letting the Five Little Peppers down.
The center hole in a machine bobbin is too small to fit on the spool holder.  I needed some other way to support a bobbin so that the thread could unwind smoothly.  Left to its own devices, the bobbin would otherwise dance across the studio floor, providing great entertainment for the cats and a massive useless mess for me.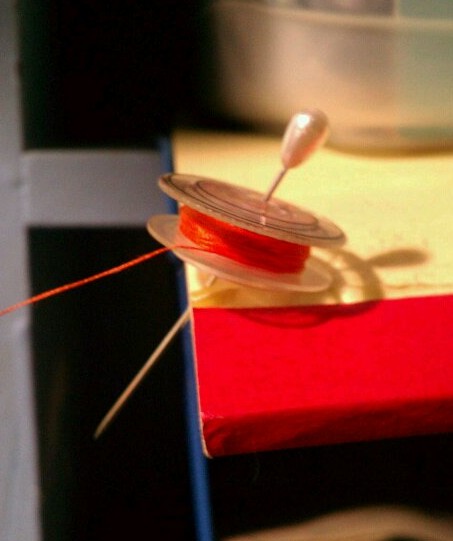 The paper is supported in a cubbyhole a few inches higher than the thread holder on my current machine, so the thread runs a bit downhill but mostly evenly into the thread guides on the machine.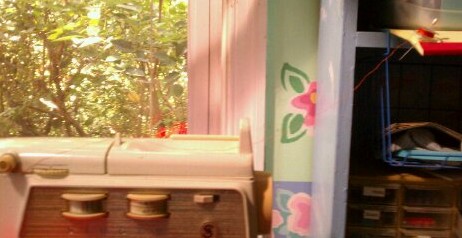 This system worked well for stitching but I couldn't use the thread on the white bobbin to load a black-stripe bobbin in the machine. Thread got wound around the hat pin and broke.
(This machine is itself being "used up."  It no longer zig zags and the reverse is intermittent.  As long as it stitches forward, I will use it, and then disassemble it for John's art welding parts supply.)