Knitted Rag Rugs
Learn how to process recycled t shirts and other old clothing and textiles into strips that can then be knit into rugs. Participants should know how to knit (garter stitch = knit stitch), bring 8-10 t-shirts, and a rolling cutter, cutting mat and scissors that can cut fabric easily (for trimming what the rolling cutter misses). (It is possible to use VERY sharp shears to cut t shirts, but rolling cutters are much easier on your hands.)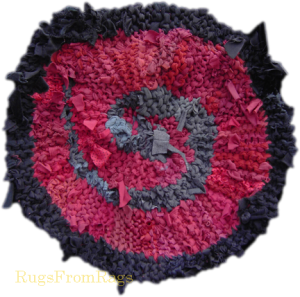 Students will need to bring their own knitting needles in a large size (10 or above) and can cut their old t shirts narrower or wider to suit their choice of needle. For comfort, needles should not be more than 12″ long. Some circular needles may work, if the join between needle and cable is strong.
A very large-eyed, blunt tip darning needle will be needed to sew up the rugs, but this tool will not be used during the class.
Patterns will be provided, as well as additional pre-cut fabric to supplement color choices. Guidance for creating your own pattern is also available.
The class lasts six hours and can be scheduled in one, two, or three sessions. Add an hour if students will be eating lunch during the class period.
Marketing with Pinterest
As you might be able to tell from the buttons all over this site, I'm a big fan of Pinterest.  If you have a business that can be represented with images (which is many more businesses than you might imagine), you might want to look into what you can do with a Pinterest Business account.
This is the copy I used to market the classes, currently offered locally in the Raleigh area:
Learn how to use Pinterest, the newest (and most fun!) social media service, to drive traffic to your business' website, establish credibility, convey expertise and a sense of who you are as a business person, and develop relationship with clients and partners. Pinterest is everything Twitter promised, only it's fun! Pinterest is most obviously useful as a marketing tool for people in the 'portfolio' professions–anyone who uses pictures of their work as a sales tool. But people in many other fields are using Pinterest to generate leads and drive traffic.
See the current Marketing with Pinterest class schedule here.