People who see my rugs in a show sometimes ask where I get my ideas for colors. "Everywhere." Simply everywhere. Admittedly, I read (or own!) a significant collection of color idea books, from Pantone, the paint companies, both artist and domestic, and any one else who prints a color chart. My first stop in the hardware store is the paint department, to see if any of the brands has released a new set of color cards.
Sometimes, however, the colors just jump out of the laundry basket and hit me in the eye.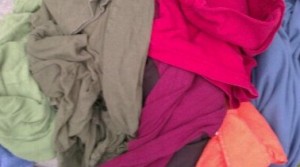 I found these garments the other day. As I carried them out of the truck, I thought, "Darn, but those colors go well together!" I photographed them outside to capture the best sense of the color.
Of course, the six or seven or eight different shades in the picture above will turn into 60 or 70 or 80 by the time I'm done adding all the blendy bits.  Freddie Moran says, and I expect Jinny Beyer would agree, "10 colors don't work.  100 do."  I've used that as a guide since my first or second rug.
Stay tuned.  I need a name for this one.