I made more than 50 rugs before I found my floor loom on Craig's List, using knitting needles like the ones in the picture below. (I thought I would be doing more knitting in the round, which is how I acquired a large number of double-pointed needles (dpns). At 2 stitches to the inch, I rarely lose stitches off the end.)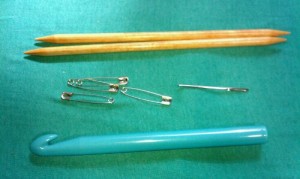 While it's possible to make crocheted rag rugs, I don't enjoy the process. Crochet is too unilateral, while knitting uses both sides of my body a little more evenly. When I crochet, I have to use my left hand so I don't lose my ability to write with my dominant right hand. I use the hook for picking up dropped stitches and otherwise pulling loops through fabric.
Now that I think of it, I should have put a darning needle into the picture above. Here's a picture of the needle I use to sew up rug parts and darn in warp ends, with a quarter and Euro coin to show scale.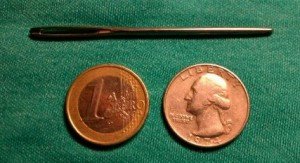 My favorite knitting store, Great Yarns in Raleigh, keeps a jar of these at the cash register, and I'll usually buy one more whenever I check out. You can't have too many darning needles.