I wanted to write this post a month ago when I first saw the ad on Craig's list:
Sewing machine's motor works but the gear is worn out that turns the bobbin
great for someone who needs parts for a Singer or works on sewing machines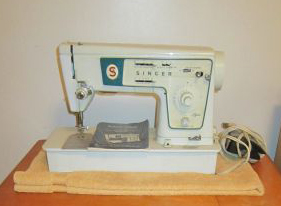 This is the picture from the ad; there are regularly 10-20 sewing machines of this vintage (late 50s-60s-early 70s) for sale at any time on the Raleigh listings. All of our mothers owned them, and all of us are unloading them as our parents downsize.
I have two Singers of this vintage, and one just died. The other is limping. It sews forward just fine, but won't reverse or zig zag. Because most of what I sew is joining strips for weaving, "forward" is good enough, and I'll use the sewing machine till it, too, dies, which might not be all that far in the future.
I bought one sewing machin off Craig's List for about $50, and I found the other at the swap shed. The second sewing machine came out of a high school home ec classroom and still had the school inventory tag on it.
Last December, I took the Singer that I was using the most into a sewing machine repair shop to ask about repairing the zig zag function. It had been sewing zig zag and other patterns, and then it quit. The technician took one look at it and said, "the gears are plastic; they've broken, and it will be at least $600 in labor to fix." I said, "thanks for telling me. I can buy a lot of used sewing machines for $600."
At the time, I didn't understand exactly what he meant by "the gears are plastic," but I do know to believe repair people when they give you a estimate that's 12 times higher than what you paid for the item.
A few weeks ago, my machine coughed and spewed bobbin thread and after spending some time messing with it, I finally recognized the bobbin casing wasn't turning. When I looked underneath, where the shafts and gears live that turn the bobbin and the feed dogs, it looked like the drive shaft did not connect to the bobbin shaft.  There was a gap between the two gears.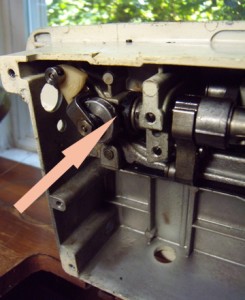 Then I looked into the heart of the sewing table, and I saw two pieces of round plastic that had been parts of a toothed ring. I understood. In machines of this vintage, the shafts are steel, but it is the TEETH of the gears that are plastic. Old plastic gets brittle, and breaks, and there is no repairing it.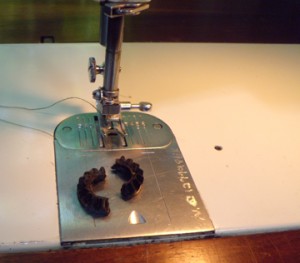 I may disassemble this machine completely to make some other form of art, but it will never sew again. ALL the gear teeth are of the same age, and they are ALL aging at the same rate, and there is no part that can be harvested from this machine that will work in another of the same age.
I bit my tongue / typing fingers when I first saw the listing on Craigs List, but now the seller has relisted his sewing machine.  Don't buy it. The Singer may have a tiny amount of value to a scrap metal dealer, but it's worthless to a anyone who wants to use it to sew.
An example of what this problem in someone else's life: a letter from my local chatlist.
I have a sewing machine that I bought in 1965. It has served me well all
these years. But recently it stopped working properly and is hardly moving. I tried a bit of oil, maybe I didn't hit all the right spots. In any case, I'm looking for someone to diagnose and maybe repair my machine, if that is possible.
My reply:
It's more than possible your machine is totally dead, particularly if it's a Singer. The gear teeth of the machines of that era were made of plastic and they're all getting old, brittle and broken. I 've watched three die recently, and been quoted a $600 repair bill (which I believe was realistic). I simply buy a new-to-me machine when I find one that does all functions for $25 or so. (I have several lined up as replacements.)
Take the bottom off your machine and see if any plastic parts fall off. If so, I'm probably on the right track.
If not, I have used a sewing machine repair guy in Goldsboro. There are a couple in Raleigh, too. But they may tell you the same thing.
I get my machines off Craig's list and the thrift shops. If a machine does NOT do everything you need it to, DO NOT BUY IT. None of these machines have any value as "parts" machines, and someone on Craig's List keeps trying to sell his as a "parts" machine. It's not. It's dead.
(I have had machines go on for a long time as straight stitch after they lost zig zag. Once they feed dogs quit feeding, there's no fix.)
If I hear back, I'll update this post.