Two days ago, I put a notice on Facebook saying I would knit Pussyhats for anyone who would send me yarn. I posted in the afternoon, and walked away, and didn't really expect anyone to follow up. By the next morning, I had 12 requests for hats. I was moved.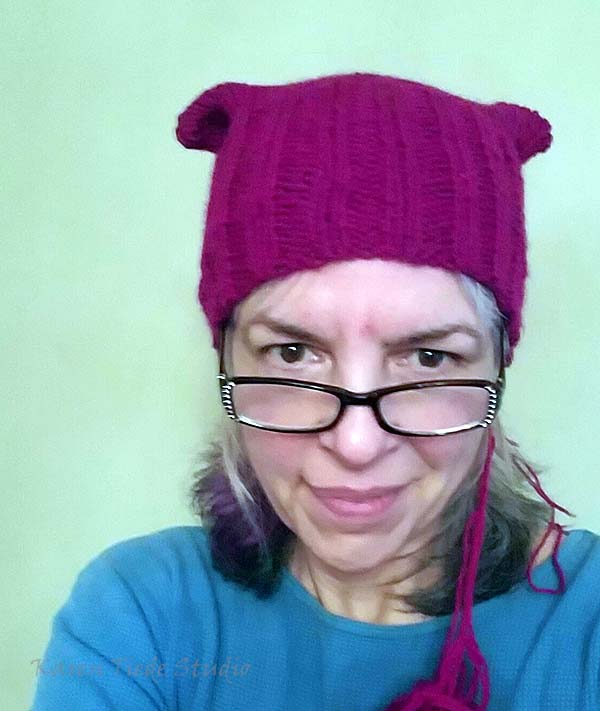 I had also reconsidered my offer a tiny bit. I'm picky about what I knit, and I really didn't want to knit a pile of hats from acrylic yarn, or something that would split, or have no give, or any of the other quibbles that serious knitters know about. I had moved into considering the act of designing variations on the basic pattern, and what I could do in the space, and I wanted good materials to work with. I didn't have enough pink in my own stash to knit 12 hats.
I shopped. First, at Webs, of course, and found $100 of sale yarn in a range of pinks that would work just fine. Before I bought anything, I stopped at my local yarn store, and found several balls of bright pink eyelash add-in that someone would like. I bought two.
I came home and updated the FB post, saying I was going to make a grab bag buy and people could donate the cost of the yarn to the charity of their choice. I was all set to buy a bag of yarn, but the shopping cart malfunctioned on the website and I couldn't complete the purchase.
I clicked around the internet, looking at pictures from the Women's March and the Inauguration, and found an article wherein someone challenged the hats, asking if they were made in America. They are, and many of them are made with American yarn. That made me wonder about the origin of the yarns in my shopping cart. Was I buying American? Couldn't get to the cart; couldn't tell.
While I waited for customer support to fix the problem, I rummaged around in my sewing room, looking for options. I have a knitting machine I've never used, purchased from the Habitat Restore after it was donated by someone who never used it. Perhaps it was time to learn. What weight of yarn did it need? (There's a skein of worsted weight yarn, brand new, in the box, and the hooks look like they could manage worsted, so OK. That's a start.)
What about the baby loom? Could I weave the crown of a hat? Perhaps. Last time I tried using that loom, the heddle didn't raise the warp enough to be useful, but I warped with a stretchy fiber and didn't give it a lot of effort. Perhaps I could try warping with some of the embroidery floss I have in stash. What to use for the weft?
I was looking around for weft options and looked at the bags of onesies in the closet. I've already pulled all the pinks, but what was that? OH… the white afghan kit I rescued from the thrift shop at least 20 years ago (I moved it into this house, and that was 1997).
What if….
And there was a new answer, at least, my current answer. Knit a pile of white hats, and dye them all at the end, and let the dye pot do its magic. (As I think of it, this will not work for Fair Isle, so I'll have to think of something else for any hat I knit planning to have a two-color design. So stick to cables, and lace.) Or do the design in black, which I also have plenty of.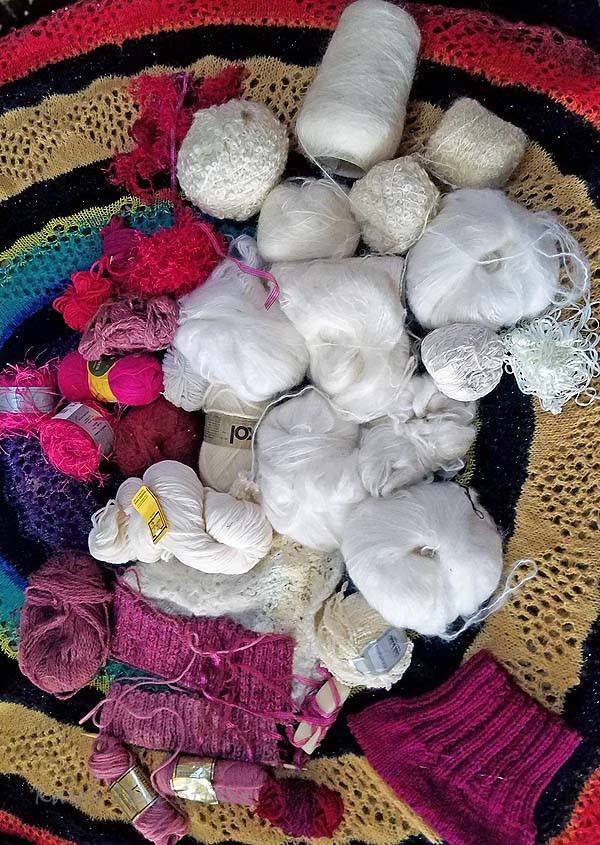 Only three of the yarns in this white stash still have labels–one from Norway, one from France, and one from New York State. I'm not going to worry about it. If Melania's Inauguration dress designer, Hervé Pierre, counts as American because he has lived here for 20 years, these yarns can count as American because they have been crammed into my closet since at least 1997, and they must have been in someone else's closet for a long time before that if they found themselves donated to the Thrift shop so many years ago. Good enough for Melania; good enough for a PussyHat (think about it).
Incidentally, the Pi Shawl underneath the white yarn was itself a stash busting project. It's the LoveIsLove Pi Shawl pattern by Donna Druchnas at Sheep to Shawl, knit as a fund-raiser to support the families of the victims of the shooting at the Pulse Nightclub in Orlando, FL.
Non-knitters might think I was making some progress into my stash. Knitters know better; as much has come in as has been used over the summer. I can get 12 PussyHats out of the white yarns, easily, and by then, some new need will have appeared that will require the (mostly cotton and rayon, interestingly) shiny yarns that have been slipping into the bag recently.
Save
Save