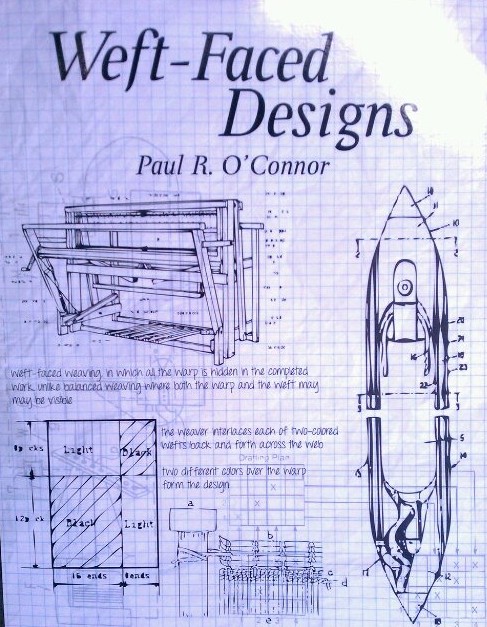 The new book, Weft-Faced Designs, by Paul R. O'Connor, was mentioned on the Rug Weavers' discussion group on Yahoo. I debated whether it would provide any information I didn't have on my bookshelf. I already own:
Hoskins' Weft-Faced Pattern Weaves, Tabby to Taquete (2011 edition)
Collingwood's The Techniques of Rug Weaving
Davison's A Handweaver's Pattern Book
OOH, what's one more book about weaving? OTOH, I don't need another book covering exactly the same ground as those I already own and when cash is tight, you want to make sure you're spending what you have on the most useful books.
Well, buying O'Connor was the right decision for me and my weaving, and here's why.
Long warp, one threading
Weft-Faced Designs starts with a straight 1, 2, 3, 4 tie up, and weaves all the patterns (except for the first three plain weave designs) in a 2/2 twill. All the work happens in the weft, and the warp is constant across all samples.
Davison sticks to four harnesses but rethreads frequently.
Collingwood shows six samples of two-color, straight 2/2 twill work in his book and leaves the rest of the combinations to be worked out by the weaver.
I am sure that there is great and useful information in the Hoskins' charts.  I can't understand the charts, or how to use those designs in my weaving. (In addition, half the book is for looms with more shafts than mine and only a few of the chapters apply to my threading, as well.)
I'm weaving rag rugs on a 100 yard warp. I could change the threading. I don't want to, at least until I have exhausted every design possibility in straight and broken 2/2 twill (either of which give me a fabric I like better than plain weave).
Simple Samples
My favorite element of Weft-Faced Designs is that the samples are woven in a clear black and white, stacked one above the other.  The patterns are grouped in order of picks needed to weave one repeat.  It's pretty easy for me to imagine what these patterns would look like as colors shift in the background and foreground.  The picks themselves are written like chemical formulae, for example,
A(5) B(4) = five picks of A followed by four picks of B
This is a very easy way for me to weave.
Heads up
You have to know how to weave.  Not a lot of intro here.  The samples are shown woven in thinnish wool (if the author mentions the size I'm not finding it now).  These patterns will not translate directly into much bulkier rag.  (This has been true for all the weaving patterns I've seen.)
I wish the line drawings were linked explicitly to the samples.  Suspect my copy of this book will be marked up with lines and arrows in short order.
I just finished two rugs in the ABABA sequence, which gives a different result for me than the illustration of the author's AABAB design on page 25, and as I type this, I realize it's a straight 2/2 twill (the book) vs. broken 2/2 twill (my rugs) problem.  OK.
If wishes were horses
I have been weaving in broken 2/2 twill, and I wish I had a book of these same color changes worked in that treadling.  I can work out the patterns for broken twill myself.  I have been told that the diamond grid design paper will be released in pdf format soon.
I also really want a program to generate graph paper that matches the proportions of the individual units I weave, at my sett and rag-cutting system.  This may be beyond the scope of the book, of course.  I may simply need to set aside a week and 20′ of warp and weave off my own set of samples.
Conclusion
If you know you can be content playing on your loom with one threading and a hundred or so two-color patterns, Weft-Faced Patterns is a book that should be in your library.  I don't think I'll exhaust the possibilities in the 250′ remaining in my 100-yard warp; probably will have ideas left over when I finish that and go to the continuous warp I may thread next.
ps:  it's not available from Amazon.  I ordered directly from the author and received the book in just a few days.