I am still developing the process I follow to turn old clothes into rugs and wall hangings. When I first started processing fiber for weaving, I simply blocked out garments, cutting off the bulky bits and then flat folding what was left. Now that I'm preparing to weave, I need more refinement.
The photo below is a stack of fiber in the "November" colorway, which is all the colors of the late fall landscape after the leaves have fallen. I can't do anything very interesting with a random assortment of colors, even if they do play well with each other.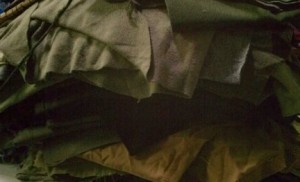 This photo shows what happens when I sort the individual fabrics by shade, light to dark. Dark browns and charcoal in the lower right, pale fawn and fog above. (The camera I used for blog illustration isn't very good at capturing subtle differences.) I'm still not sure what I'm going to weave from this palette. Pretty sure I'll add accents from a different part of the color wheel. Burgundy wants to be here, for sure.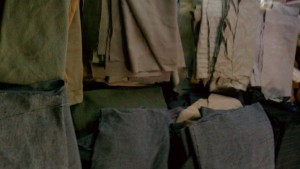 When I have shades separated, I can start to think about design. You can't see it in this picture, but the stacks are different heights.  This tells me volume–some stripes will be wider than others.
This fiber isn't committed to any particular rug yet.  It's simply part of the process of making all rugs:  to have a pretty clear idea of how much of each shade and color story is on hand when I'm ready to cut weft.