I cannot remember not knowing how to knit.  My mother, my grandmother and great aunt, and all of their friends knit for the Allies in WWII.  My Dad never wore store-bought socks unless he was in summer uniform.  I've been knitting since I could walk, or thereabouts.  Over the years, knitting came and went, depending on time and budget.  In 1986, when it was time to quit smoking, knitting kept my hands busy.
It happened that I went to grad school in Conway, MA, not far from Amherst, home of the WEBS Yarn Shop (on the web as www.yarn.com today), home of fabulous close-out yarns, home of great knitting books.  I was in heaven and spent as much free time and money as any grad student has at the store.
In 1987, Kaffe Fassett's first book, Glorious Knits, hit the streets.  I was stunned.  I had never seen so many colors in any one place, and you didn't need a pattern, exactly.  One of my classmates wanted a sweater, and I traded the knitting part labor for a copy of the book (she bought the wool).  I was hooked.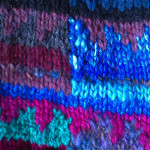 I don't recall knitting intarsia before I found his book, but I figured it out quickly.  I knit a vest, and then a Argyle sweater, and a Tumbling Blocks sweater for a guy I didn't date much longer.  There's always room for more sweaters in MA.  It snowed four inches on May 4 that year.  I recall it being in the 60s during graduation in June.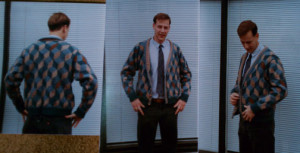 I moved back to North Carolina and kept up with the knitting, but it's different here.  I started making an incredibly elaborate Tumbling Blocks that I only worked on for two hours a week during All Things Considered.  That gave me steady light to match the colors. (Hint: If you're going to change colors within a row, you have to change colors within the swatch, too. Straight stripes in a swatch are not a true indication of gauge.)

I recall knitting one more fair isle, in autumn colors, but my dog died just as I finished it and I think I gave it way.  There was a very complicated Aran pullover with lots of twiny cables.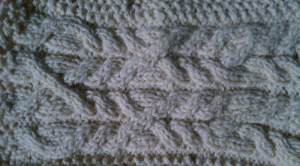 The real problem is that my part of NC doesn't get cold enough to wear sweaters enough to make it useful to knit them all the time.  I knit socks, of course, but they get finished too quickly. 


Somewhere in that time I knit a tablecloth as a wedding present for my brother (missed the wedding; beat the birth of the first child) that took six miles of cotton thread.
The exact details of the next few years are a bit fuzzy, but they included a trip to Antarctica, being brushed by a lightning strike, becoming a chainsaw carver, and returning to knitting.  The first three items are discussed more on www.karentiede.com.
It turns out that I had more sculptor in me than I knew.  Knitting socks in particular requires 3D thinking, which I have in spades, and so does sweater construction.  Chain saw carving was a blast, and I'd still be doing it as my main art form if the neighborhood hadn't shifted from older shut-ins to younger families who used their yards more and didn't want to listen to chain saws on a Sunday afternoon.
The other problem with chain saw carving, apart from the noise, is that it's all one color.  You can paint and stain carvings, but it's hard and not very successful.  Most artists simply add black with a flame thrower, and call that "enough."  If you're carving raccoons or bears, it is.  Less successful on flamingos.
I still needed color.  I tried two more Fassett-style sweaters, which are still beautiful and are still far too warm to wear around most of my life.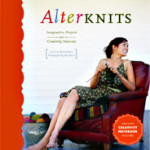 And then I saw Alterknits, with its t shirt rug, and my life changed, again.  (Mason Dixon Knitting also showed a spiral rug knit with purchased rag yarn.  That was useful, but it was Alterknits that set match to the woodpile.)
I knew where I could get LOTS of recycled t shirts and other old clothes,  and I knew how to knit.  I went to work.
I set a target of making 100 rugs, and that pulled me into more experiments and adjustments and shifting ideas.  I discovered what knit quickly (spirals) and what was difficult to knit (free-form shapes) and what was less effective than I hoped (ladders) and continued to search out new innovations and inspirations within the form of 2/inch guage, garter stitch, and used clothing, used as is, not dyed.
The first rug I really liked was #9 in the series, red spiral.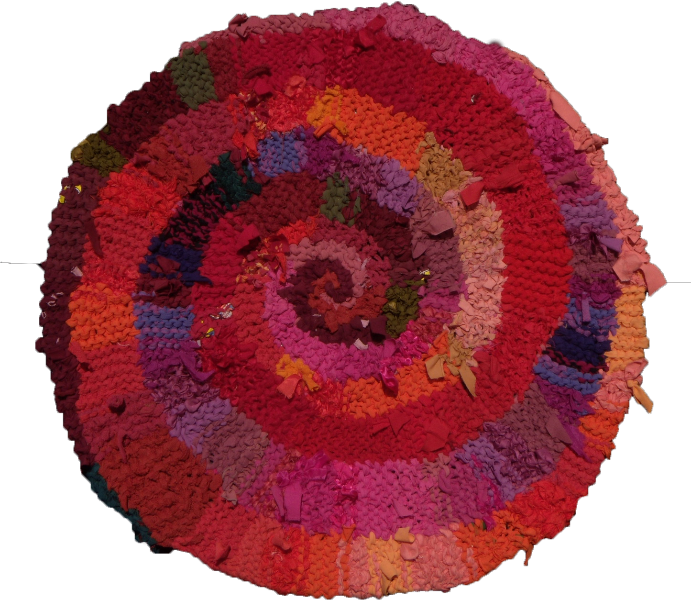 (By the way, Kay and Ann (Mason Dixon Knitting), the trick to getting spirals to assemble flat is short rows.)
What made that rug different was the Color.  By then, I'd accumulated enough colors to use 100 in every rug (more a goal than a promise, but I do get close in most rugs, and past that count in more than a few).
I kept knitting, experimenting, trying different shapes and different color ways.  I knit quilt patterns, and then one day I was done with quilt blocks and moved on to more subtle shading and construction.
Because garter stitch is very stretchy, rugs mounted for wall display have to be supported.  This limits what I can do with unusual shapes.  I also wanted to experiment with a faster production method, so I started looking into weaving.
A loom came my way, via trade for a sewing machine.  The loom rolled out of the factory the year I was born and has, so far, supported three families (that I know of).  Because I don't have 20 years to master weaving technology; I could see that 2/2 twill made a good rug and offered plenty of possibility for design work.  So I'll weave 100 rugs in 2/2 twill (broken and straight), or rather, weave 100 yards of rugs (that's how much warp is on the loom) and then I'll rethink my target.
Knitting innovation took a back seat while I learned the basics of weaving, which comes with its own fiber management requirements.  I worked on spirals in different shapes (triples = trikseles, straight spirals, and nautilus shapes).  Now that I can manage a woven rug project fairly automatically, I'm back to looking for new shapes and color management in the knitted rugs, thinking at the same time of what will produce interesting fabric when reduced and tessellated.
Kaffe Fassett is back, too, with an autobiography (Dreaming in Color) which was my favorite Christmas gift this year.  I keep going back to learn more about how he learned to assemble colors, and to realize there's nothing stopping me from more innovative color combinations than my ability to source fabric.
I'm also investigating textile design via Spoonflower, the new DIY textile printing service based in Hillsborough, NC.  The people who run Spoonflower started in the self-publishing world and saw a market for self-printing on fabric.  I hope to have fabric available in the rug colorways before very much longer.