I had a grand time at the Carolina FiberFest last weekend, held annually at the NC State Fairgrounds in Raleigh. Wandering around booths full of fiber, books about fiber and the textile arts, with friends who are textile artists and fiber-producers. It rubs off. I indulged.
I am a worker in rag fiber, recycled t shirts, primarily. As such, I use stick and rag shuttles on my floor loom. I weave in awe of Jean Vollrath's claim to have maxed at 40 picks per minute; I'm doing well to get 1.5 picks done per minute. (Commercial looms get to 20,000 picks/minute.) But I do weave headers from tripled warp, 24 picks at each end of the loom, and these, at least, could be woven faster. I bought a boat shuttle and a bag of bobbins from the wonderful people at Hillcreek Fiber Studio.
Given everything else I purchased, I simply couldn't justify the cost of a bobbin winder, currently more than $100. I only need 48 picks of header fiber per rug (the rest of the rug is between 300 and 500 picks of rag). There's no amount of speed to be gained winding bobbins faster, for 48 picks. Plus, weavers and their partners tend to be long on the DIY end of the scale.  I figured I could make a bobbin winder that would work well enough for a lot less than $100.  My girlfriend is going to try using an electric drill; I thought that would be too fast, given that one's hand is the tension controller, and tried a different route.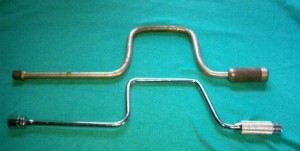 My first idea was to use a manual bit driver.  However, when I examined this tool, I realized that it rotated at a 1:1 ratio, and I wouldn't gain any efficiency.  Even worse, you move your driving hand in a bigger circle than the bit turns, which is useful for driving screws but no good for winding bobbins.
I thought about using a Yankee screwdriver (my father owns one, but it's 250 miles away).  The local hardware store knew what they were, but didn't have any.  Internet research tells me that new, they are $70, so that wouldn't be much gain on the play, anyway.
Round three:  a manual egg beater.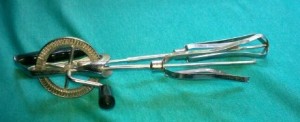 I started taking an old, out-of-sync egg beater apart before I thought to photograph the process, so I put it back together as much as I could for the picture above.  You can see that I've already cut the tines of one of the beaters.
Once I cut the U-shaped core bar with wire cutters, and then the top off the tines with tin snips, the entire tire assembly pulled off the beater fairly easily.  Wear leather gloves–the edges are sharp.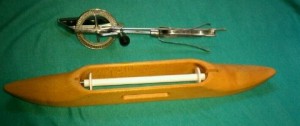 Here's the beater next to the shuttle, with the bobbin that needs to be filled, installed in the shuttle.
It turns out that it is the tine assembly that turns and not the center metal rod.  Four tines were too bulky to fit in the core of the bobbin, so I bent tines back until I discovered what it took to just hold the bobbin onto the beater.  One tine turned out to be the answer for my egg beater; different models may have different results.
I cut the bent tines off with tin snips.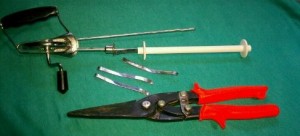 Again, the edges are very sharp.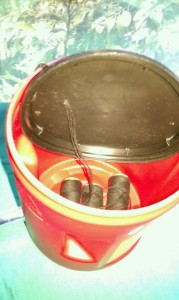 I use a plastic coffee "can" with a hole punched in the lid as a spool holder to wind bobbins.  Shown are 800-yard cones of 8/4 poly-cotton warp, holding what remains after putting a 100-yard warp on a Newcomb Studio loom.  Keeping the cones in the coffee can means I don't have to chase them around my studio as they dance while they are unwinding.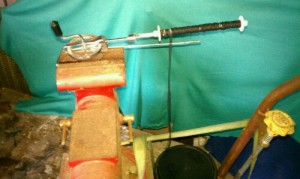 I had originally thought I would mount the egg beater onto a block of wood to hold it while I wound a bobbin.  When I went into the shop to look around, I saw the vise and solved the problem more simply.  The vise is clamped on the black plastic handle of the egg beater.  The turning handle moves parallel to the ground in this arrangement.  You can see the black lid of the coffee can spool holder in the lower right edge of the picture.  (The lime straps hold the vise to the rolling table's handle so it doesn't tip over when it's holding projects that weigh more than an egg beater.)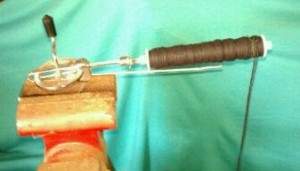 The tripled warp wound onto the spool in no time.  It's possible that the professional bobbin winder might have done a more even job.  There was substantial wobble in the bobbin, which might be reduced if I could figure out how to add a "cap" or plug at the far end, to hold the bobbin in place more tightly.  It's also possible that a better quality egg beater would produce a more even rotation.  I will keep looking when I am at the thrift shop, or the discount big-box kitchen supply stores.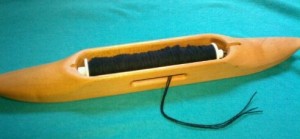 I will report on how well this system weaves, which is the only real measure of its success, when I weave the next header. Until then, I hope I am ahead by at least $100 (can't remember what I paid, if anything, for the egg beater–possibly yard sale at $0.25), for about 10 minutes labor.
Save