Thinking about a new knitting project
One of my Christmas presents this year was four hanks of lace weight silk and alpaca blend yarn in teal and gray. I didn't need another pi shawl, I didn't need another shawl at all. I have plenty of shawls. I want something to wear.
I saw a cross body wrap in a book at the store that looked looked super simple. I didn't want to buy the book, because the pattern was so simple, and I didn't like any of the other patterns in the book. Cast on 400 some odd stitches, knit 20 or 30 rows, castoff.
The wrap crossed the model's body in front and went behind her neck and hips in one piece. I tested it with paper strips, and I discovered that you needed to put a full twist into the strip in order to show the same side of the garment front and back. It's a figure 8.
I looked around on Ravelry for an example pattern, but I couldn't find anything. I was looking for infinity wrap, and Mobius strips. I could find some garments but nothing that looked exactly like what I wanted.
At the same time, I started thinking of what stitches to use. I love the frost flowers pattern in Barbara Walker's book. I swatched it. Twice. After working with the pattern, and charting her written instructions, and swatching it and unraveling it and swatching it again, I still wasn't happy with the rhythm of knitting that pattern. I kept coming out with extra stitches. I knew I was going to need roughly 400 stitches, which is 12 repetitions of her 34 stitch pattern, and it just wasn't fun to knit. So I thought about something else.
I thought I had lace weight circular needles in my stash, but I couldn't find them. I have size 1.5 that was too fine and the next size was 5 and that was too thick. I went to Great Yarns knitting store in Raleigh, and bought a size 3 cable, and asked the owner about whether she knew and pattern so the garment described. She didn't, off the top of her head, but she did give me some new words to search for in Ravelry, and I was able to find some idea of what I was looking for.
The patterns I saw in Ravelry weren't exactly like the ones I saw in the book in the store, but they were close enough.
And then, somehow, it hit me. I had seen this garment before. I found myself searching for Gone With The Wind costume photographs. Bingo! There it was.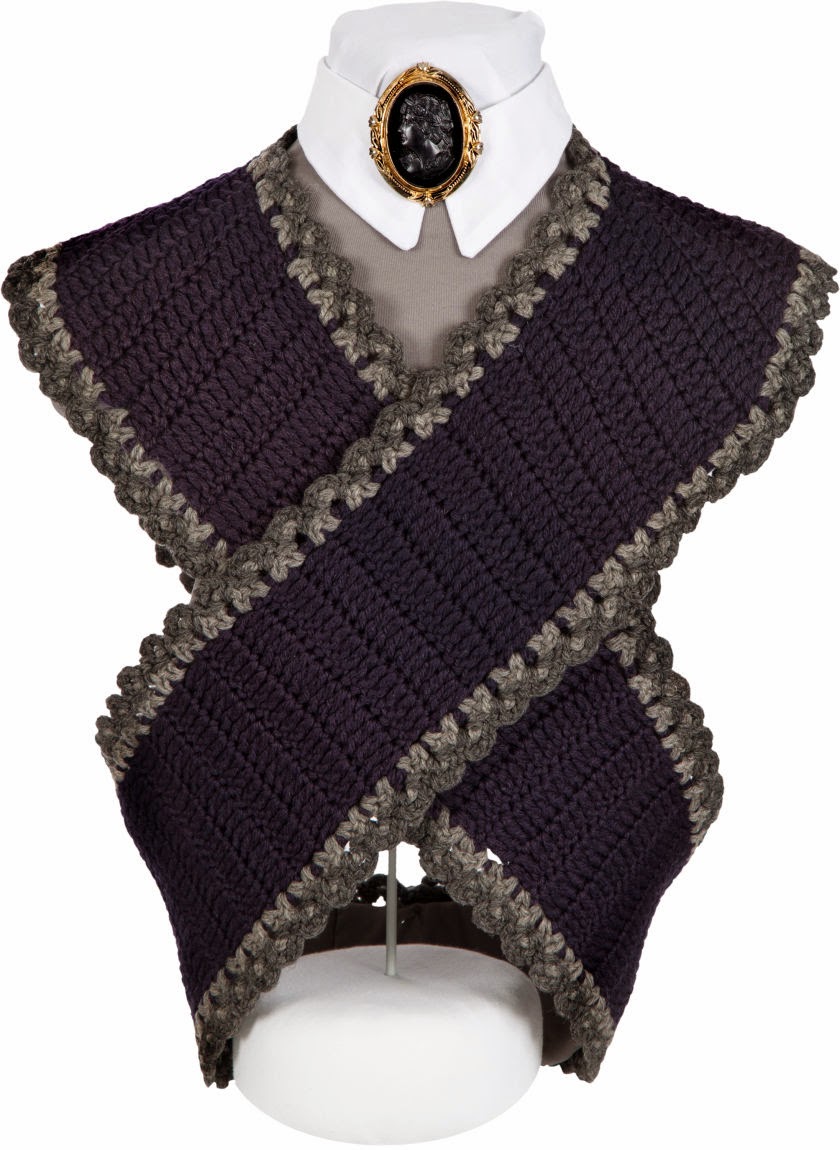 The Gone With the Wind costume display had come to Raleigh several years ago. I wasn't so fascinated with the curtain dress, but I do remember noticing a cross body wrap that Melanie Wilkes wore when she visited the battlefield hospital. I remember thinking it might not be terribly warm, but it was eminently practical, because it stayed put and didn't interfere with her arms the way the shawl does.
The person who wrote the caption did not know what they were talking about, because they said it was knit, and it's not. It's crocheted. In addition, the wrap has shaping at the shoulders, and it probably buttons at back waist. I started researching Civil War costumes. If it showed up in the movie, it must existed in the real world the time, and I might even be able to find the pattern in some ladies' magazine. A friend put me in touch with someone who makes Civil War costumes for re-enactors.
Meanwhile, I needed to test the garment in the real world. I wasn't sure I was going to like it. All of my scarfs and shawls were 72 inches long, and when I tried wrapping myself in them according to the design of the garment I wanted to knit, they were not big enough.
I could allow that the knit garment would stretch more than a woven shawl, but nonetheless, I wanted to test the appearance and wearability the garment before I spent a month working on it.
I spend a lot of time in thrift shops. I had noticed two rectangular Pashmina shawls, and I thought to buy them, stitch them together, and test them as a mockup of the wrap. Before I could get back to that thrift shop, I found a different Pashmina, with two visibly different sides, that would work just fine for my purposes.
I took the shawl home, ironed it, cut it in half length ways, hemmed each piece along the cut side, and stitched the two halves together along one of the short edges. For fun, I left the fringe outside, on the right side of the garment.
I tested draping and wrapping the shawl according to the figure 8 pattern I wanted to make. Frankly I wasn't happy with the way it worked. The back sagged, the ends needed adjusting all the time. I don't like futzing with my clothing. I was disappointed, to say the least. This is supposed to work. It didn't.
However I ran out of time, and so I left the shawl on the sewing table and went about the next item on my list. While he was out, I realized that I probably needed to sew the other end of the figure 8 as well. I will pin and test that when I get a chance.
Meanwhile, on the knitting side of things, I decided I wanted this exercise to be something fun and easy to knit, not something that required attending to the pattern every 4 stitches. In addition, I was constrained by the imminent arrival of Christmas, with its attendant long car travel. I needed something to knit, fast.
The fastest, most reliable color work I know is Knit One Below. I went back to that book. When flipping through it, I saw an open, airy, lace weight sweater, it looked like it would be fun to knit. I still need to think about it, because I don't like purling, and this garment is knit in pieces that are knit flat.
Regardless, I started swatching Knit One Below color work on size 3 needles to see what happened. Incidentally, when looking for the book, I found that I had 2 pairs of size 4 cable needles, I will swatch on them as well. Lace weight yarn will look more open on size 4 needles, and that's what I want.
It took three hours to rewind the yarn that my Chihuahua tangled in less than 10 minutes. Didn't have to break it once. And he didn't break it, either.
January 27 Update: This project was started before Christmas, and didn't get traction. I knit a shawl for my sister instead, with Sari Loom Thrums yarn, and then I noodled a bit, and now I'm deep in the Pussyhat project. Stay tuned. The lace weight will return.