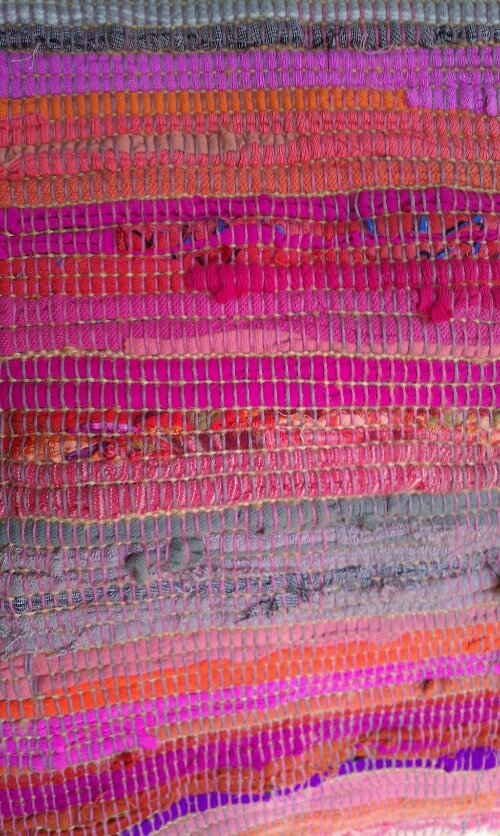 Darn. I was pretty absolutely certain I didn't like warp-faced rugs. I undertook to weave on in my first handweaving class, taught by Jean Vollrath of Hickory Mountain Weavery at the NC Arts Incubator in Siler City, because I didn't want to cause trouble in a class full of beginners. If everyone else learned the log cabin pattern, I could too.
As it turns out, the warp colors I selected don't have enough contrast for the log cabin pattern to show up.  You can almost barely notice that the pink shifts to taupe and then back again.  I know the warp changes color, and I can barely see the color change.
The weft (crossways stripes) is fabric leftover from the Pink Floating Square rug I knitted recently, that sold its first time out.  I liked the colors.  I was amazed at how well the gradations show up in the Log Cabin rug.  I didn't notice them as clearly as I was weaving the rug, because once you advance the warp, the completed part of the rug is hidden underneath the part you're still working on.  It was only when I cut the finished rug off the loom at the end of the class that I realized how cool it looked.  I'll post a "formal" picture next time I set up for detailed photography.
But what does this have to do with needing a second loom?  My main loom is set up to produce weft-faced rugs in twill and broken twill.  The two types of rugs–warp-faced and weft-faced–cannot be produced on the same loom interchangeably.  I have a 100-yard warp on my (first) Newcomb Studio.  I rather suspected I might need / want a second loom, but I thought that the variable would be weaving width, not sett.
As always, stay tuned.