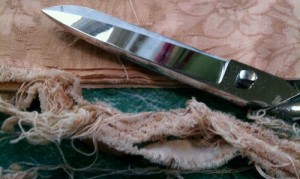 Say THAT three times quickly! Newly sharpened shears newly sharpened shears newly sharpened shears!
Oh, the joy of finding a new sharpening service! The little store where I used to take my good shears closed in the depth of the recession. It was sad; it was a convenient location I passed frequently on my way to town and I could dream over the inventory when I picked up my Ginghers. But no more.  No matter how good an edge someone puts on a blade, entropy wins in the end, and the hard and rough work of processing clothing into weaving warp is one of the more challenging uses of scissors.  Eventually, I'd nicked three too many zippers leaving visible dings in the edge of the blade, and I had to find a new sharpening service.
Enter the I Sharpen It service in Raleigh / Garner, run by Terry Bozon.  I am back in business!  I love the new edge.  The picture above shows the cut line in six layers of upholstery-weight cotton, cut with one swipe of the blade.  I can shave (were I someone who shaved) with this blade.
Terry works out of Garner; call him to make arrangements to drop off your edged tools, leave a check, and he'll get them done in not very long at all.  The next time I was in town, I picked them up from the drop box.
Now I'm looking around the house for all the other tools that need a new edge.  I may take a box full to him next time!
In case you haven't guessed, I have opinions about edges.  I have a pair of Fiskars and they're nice enough, but they just don't have the floaty feeling when cutting that these Ginghers do.  I also tested a pair of the Scotch Precision Ultra Edge Non-stick scissors with the Teflon edge from 3M, and, IMHO, the people at 3M must not cut much fabric.  Those scissors are good for gooey material, but they die on four layers of recycled t shirt.  (Look for my review in the 3-Stars.  It would appear that few of the people who wrote the five-star reviews do much serious textile work.)
Step away from my Ginghers and no-one will get hurt…