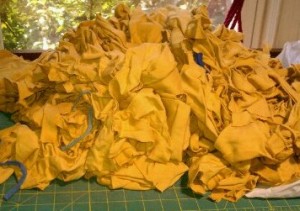 Last week, I went to TS Designs in Burlington and came home with a truckload of t shirt scrap fabric. I sorted my load into piles by major color right away.
I spent the weekend thinking of how I could use the fabric and I have a list of ideas in my Textiles IV notebook. However, I didn't know enough about what sizes and shapes I had to make any detailed plan.
Today, I started on the yellow fabric, in part because it was the second-smallest pile by color. (I had less purple, but the purple pile was so small it wouldn't tell me much about the composition of the entire truckload.)  I dumped the bag of yellow onto my cutting table and started sorting.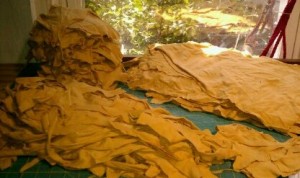 It quickly became apparent that I had three major piles–big, small, and long-and-skinny.  The "big" pile had two shapes, something that looked like an unsewn long sleeve, and a rectangle. These pieces are big enough to be cut into weaving lengths, and I set them aside for later processing.
The "small" pile turned out to be two three sizes of neck cut-outs (see below).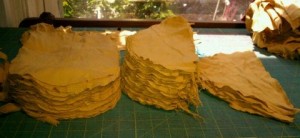 One shape is a shallow U with the long side on the cross grain, and one is a deeper U with the longest dimension on the long grain of the fabric.  The shallow U came in two sizes (piles on the right of the picture above).

Next, I sorted the "long and skinny pile" according to long and cross grain, because knit fabric behaves very differently depending on which grain.  It was at this point in the process that I realized the yellow fabric was different from that of every other color.
I had noticed LOTS of long skinny rolled-up pieces of fabric as I sorted on Friday.  Much of my design thinking involved ways to make use of these tubes of fabric without trying to unroll them.  However, none of the light yellow fabric was rolling.  I looked more closely.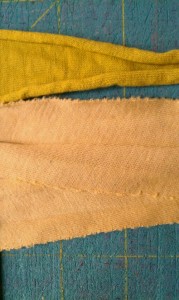 Wikipedia tells me that the light yellow is warp-faced knit (doesn't run) and the more greenish yellow fabric on the top is weft-knit, which both runs and curls.  Handknitters call this stockinette stitch, and go to great lengths to prevent the edge curl.  It's simply luck that the first sample I pulled from my scrap load happens to be the only one that doesn't curl.  I don't see anything on the factory's website that discusses knit type.  Might have been a special order.
For the time being, I have a few pounds of weaving fiber, two piles of tiny rags I may give to a gunsmith, and a small amount of long-grain, not curling skinny bits.  When I sort the next color (probably red, as the next-smallest by weight), I'll have a better idea of what the distribution of scrap sizes is.
Save