Several months ago, a fiber-artist friend told me she'd worked with recycled t shirt factory scrap from TS Designs, in Burlington, NC.  I had been interested in finding a source of weft that might take less preparation than slicing clothing, so I took a little road trip this morning.  TS Designs is 46 miles north of here, and an easy drive.  I came back with three-sheets full of bundled scrap.  The picture below shows one sheet's worth.  (I didn't have enough duffels and I thought it would be bad form to go to an organic business with black plastic trash bags…)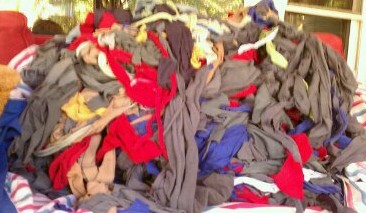 I could have taken a truckload. They had two bins full at the plant, and I took one. I didn't need any more until I can figure out how to use what I have. Eric Henry told me they had a lot more on hand where they dye the finished t shirts, downtown. Contact him if you can use random sizes of colored cotton t-shirt fabric!
I had no idea of what colors would be available. While officially TS Designs offers 20 colors, between some colors not being very popular and my not having enough empty bins to sort into, I decided they had eight: yellow, red, bright blue, pale blue, dark, mid-gray, purple, and brown/tan. I'm calling this color story "Co-op" for the time being. The cotton is primarily organic, and the dyes are super-safe. The colors, however, are not quite as vibrant or lively as those from more damaging, toxic processes. Pretty enough, subtle, probably easily to live with than some of my color choices, and available in bulk. I'll make something worthwhile.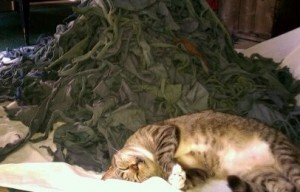 Home at noon; done sorting by 4:00 pm. Listened to podcasts while I worked. Wasn't bad. Cool day, for this late in June. My first pass sort is always color; I'll have to go back through the bags later to sort for useful size scraps. Larger pieces will be cut for weaving; smaller, already-rolled up pieces may go into a new shag rug.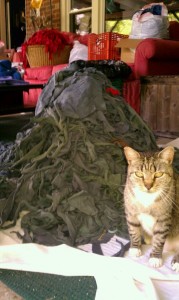 The most plentiful color was the mid-grays, Dark Cement, Willow, and Olive. I didn't see any Adobe or Pumpkin, and only the tiniest scraps of Biodiesel and Green Pea. It could be that the color selection is better at the dye plant.