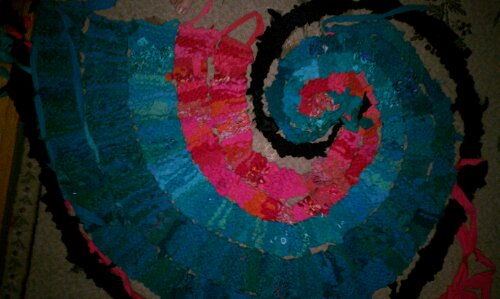 WIP = work in progress
This is a quick post to show how a Nautilus rug is assembled. I will post a similar picture of a traditional spiral rug in progress so you can see how the parts are similar but the assembly is different.
The pink strip wrapped around the black is how I keep track of the length of a given piece.  At an earlier stage of this rug, I laid out the pieces completed at that time.  I laid out the pink fabric strip around the outer edge of the rug, and marked how long the black needed to be.  When I started knitting the black section, I simply pinned the pink fabric to my work, catching the pink in the edge of the black every 8-10 inches.  When the black knitting was as long as the pink fabric, I stopped knitting and cast off.  This is an easier way to keep track of how long a individual part needs to be than pulling out a measuring tape, esp. when the piece in question is ten feet or more long.  Most fabric measuring tapes are only five or six feet long.
If you look closely, you can see a similar teal strip of fabric around the dark teal section on the left of the picture.  It was used for the same purpose–when I get to the end of the strip, stop.
I pinned the two pink sections to each other, and the light and first dark teal parts to each other, and sewed.  Then I pinned the pink to the inside edge of the light teal, and the dark outer teal to the outer edge of the teal section, and sewed them on.   As I'm writing, I need to pin the black on, and I will probably sew it on and complete the inner spiral at the same time.